No Comments
The 5 Most Unique Beers I've Tried: A Totally Biased List
I love a good, crafted beer. If it has "light" in the namely, I'll rarely even accept it when given to me at no charge. I've had plenty of stouts, porters, wheats, IPAs, lagers, etc. I've tried right around 600 different beers, in fact, with many of them falling into those categories. The more beers you've tried, the harder it is to differentiate them. That is exactly why these five beers stand out to me. There is something unique in all of them…a certain flavor that will always stand out.
Four of them are beers that are native to Colorado. My apologies. I can't help that I happen to live in the mecca of craft beer.
Rocky Mountain Oyster Stout. Wynkoop Brewing Company. Denver, CO. 7% ABV
This beer became quite a phenomenon both locally and nationally when it debuted in this downtown Denver brewery (which also happened to be founded by Colorado's current governor). Every barrel (about 30 gallons) is brewed with three bull testicles. And also some sea salt, to give it a little extra punch. This beer actually started as an April Fool's joke, but so many folks wanted to see it actually happen that Wynkoop obliged.
I tried this at Yard House here in Denver. I had it in a 9oz "shorty" because I nervous to go for a pint right away. Believe it or not, it tasted mostly like a normal porter, with a little something "extra" thrown in. I almost feel like I tasted more of the sea salt than the bull testicle, but but I've never tasted a bull testicle, so I guess I can't really say…
Cayenne Stout. Dry Dock Brewing Co. Aurora, CO. 6% ABV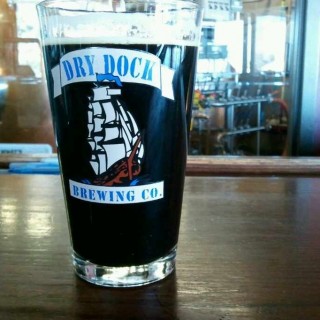 I've had multiple chili beers. Four, to be exact. One each from New Belgium, Wynkoop, Denver Beer Company, and Big Choice Brewing. This one, however, was much different. First of all, I prefer spicy stouts to spicy light-colored beers. The dark maltiness outweighs the pure spiciness, so you end up with a hint of spicy versus full-blown tongue burning.
With this stout, you could smell the spicy, much like tabasco sauce. This was the type of thing where you got spicy in the back of your throat, but the stout taste in your mouth. Fascinating. It's a totally unique flavor, with the only thing coming close being the Mole Stout from New Belgium. However, overall, this is much higher quality beer than that one. The chili/mole beer is something that more innovative breweries are doing on a somewhat regular basis, but this was one takes the cake for spicy-uniqueness.
Graham Cracker Porter. Denver Beer Company. Denver, CO. ? ABV
So far we've stuck to the dark beer category. Why is that? Is a brewer able to do more unique things with a darker brew? Anywhos…I saw this on the menu at the local Denver Beer Co and knew I had to try it out. True to form, and I have no idea how, it tasted like graham cracker. I asked the bartender, and he didn't really know the brewing process, which was an issue in itself.
The beer was great, but the atmosphere felt more like a frat party than an upscale brewery. Couple that with bartenders who don't know the beers/processes all that well, and unfortunately I have more a memory of that experience versus of the delicious beer that was served.
The Beast Grand Cru. Avery Brewing Company. Boulder, CO. 16.8% ABV
First of all, I have to say that Avery is just about the best beer in a state with 140+ breweries. If you see their beer on the shelf, pick it up, because it's going to be tasty. This beer is on the list simply because it's about 4% higher in alcohol content than anything else I've had. I believe we ordered a 4oz taster for around $5. This beer ain't messin around.
This is definitely more of a sipper than a drinker, and goes down almost like a light whiskey. It's obviously loaded with that alcohol taste, so it was hard to even distinguish the beer flavor underneath it all. Many people love this simply for the high ABV, but that's the wrong way to approach beer. I'd much rather have something at half the ABV with more beer taste. Definitely something that had to be tried, though, and I'm glad I did.
Blue Paw Blueberry Wheat Ale. Sea Dog Brewing Company. Bangor, ME. 4.6% ABV
I had this beer when I first getting into craft beer back in college. A favorite local coffee shop of mine carried it, so I went for it. All I can say is blueberry pie. By some miraculous intervention of God, this beer tastes exactly like blueberry pie. I've had other blueberry beers, but this one takes the cake as most unique. I'm not sure it's something I could drink on a regular basis, but as a desert-ish beer, you can't get much better.
What's great about this particular beer is that just about everyone will like it. You can pick up a six-pack and be assured that even the light-beer drinking ladies (I include fellas in this category, mainly because they're drinking light beer) or your from-out-of-town in-laws will get a kick out of it.
What's the most unique beer you've tried? Let me know in the comments!